Lakes of Union County
---
Union County lakes offer an array of outdoor recreational opportunities unmatched anywhere in southwest Iowa. Six lakes and 2,500 acres of publicly owned woodland and prairie are conveniently located here, and offer some of the best warm water fisheries in the country.
Please click on the following link, Explosive Fishing in Union County, for a story that ran in the Iowa Outdoor Magazine.
Three-Mile Lake
---
Three-Mile Lake offers acres of underwater structures for some of the best fish habitat in Iowa. Bring your own boat, use one of the 10 fishing jetties and explore nearly 24 miles of shoreline. Three Mile Lake has already built a reputation for providing excellent fishing for large mouth bass, walleye, catfish, crappie and bluegill. Three-Mile Lake is also developing into Iowa's newest Muskie hot spot.
The lower part of the lake is open to sailing, power boating and water skiing. No wake boating is permitted on the remainder of the lake. No Jet Ski's or jet boats are allowed on the lake.
For more information, locations, or maps of Three Mile Lake Recreation Area, go to Three Mile Recreation Area or call the office at 641-347-5100.

THREE MILE RECREATION AREA & CABIN INFORMATION
Nine attractive log camping cabins at the Three Mile Recreation Area are a perfect way to spend time in the great outdoors.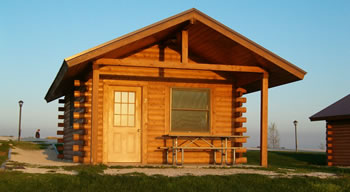 Reservations for cabins and shelter houses can be reserved on-line by going to: Cabin and Shelter
Campsites are not reservable and are on a first come-first served basis.
UNION COUNTY CONSERVATION BOARD 
THREE MILE LKAE 
1577 Creamery Road
Afton, Iowa  51003
(641)347-5100
(Messages will be returned)
RENTAL FEE – $55.00 per night, Sunday-Thursday, $65.00 per night on Friday & Saturday. The Lakeshore Cabin rents for $70.00 a night Sunday through Thursday and is $80.00 per night on Friday and Saturday. 
The cabins are available to rent by reservation only, year round, and may be reserved up to 12 months in advance. 
Cabins are equipped with a Queen size sofa sleeper and 2 sets of bunk beds; a Table and 4 chairs; dorm sized refrigerator & microwave; Heat and air conditioning; Electricity/lights/outlets; Picnic table and grill (outside) Water hydrant (outside); Flush toilets/showers nearby available year round. Each cabin sleeps 6 comfortably and offers a gorgeous view of Three Mile Lake. 
All you need to bring is your bedding, pillows, and a spirit of adventure.
FEES AND REGISTRATION: _________________________________________________________
Single night reservations will be accepted year round, except: A Friday or Saturday reservation during the peak camping season, i.e. Memorial   Day through Labor Day requires both Friday and Saturday reservation.
Minimum age to reserve a cabin is 18 years of age.
Maximum number of vehicles per cabin is two (2) standard. No tents, RV's 5th wheels, campers, pickup campers, pop-ups, etc. allowed at the   cabin site.
Cabin keys may be picked up at the cabin site as stated on confirmation.
Returned keys are to be placed in locked key drop box at cabin site. Lost or stolen keys will result in a $20.00 replacement fee charge.
RULES: _________________________________________________________________________________
CHECK IN – 4:00 p.m.
CHECK OUT – 2:00 p.m.
Cooking in cabins is prohibited except for coffee makers, crock pots and microwaves.
Smoking is prohibited inside cabins.
Pets are allowed at the cabin sites but must be contained to a portable kennel inside cabins or under control of owner outside cabins.
Cabin quite hours are 10:30 p.m. to 6:00 a.m.
Cabin curfew is 10:30 p.m. for non-registered guests.
THREE MILE RECREATION AREA CAMPING INFORMATION 
Two campgrounds overlooking the lake have 80 sites to accommodate recreational vehicles, trailers and tent campers.  Each site has electrical hookups.  Water is available along with picnic sites, a fish cleaning station and dump station. Showers, sinks and flush toilets are available nearby at the year-around comfort station. Wireless Internet is available at the campgrounds.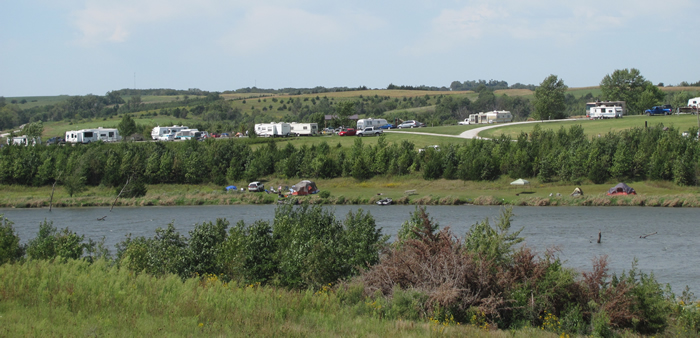 CAMPER REGISTRATION INFORMATION : _____________________________________________________________________________ 
Campground fees are $17.00 per night:
Tent Camping at non-electrical sites is $10 per night.
Campground and shower house are open year round.
All campers are asked to self register at campground entrance.
Envelopes are located in top of registration tube.
Fill in appropriate information on receipt and on envelope.
Detach receipt from envelope and place on post next to campsite.
Place $17.00 fee in envelope and put in drop slot in registration tube.
CAMPGROUND RULES: ____________________________________________________________________________________________
All campers are asked to self register.
No reservations are accepted. Sites that are paid for must be occupied by a camper, tent or a vehicle to be considered valid.
Two tents are allowed per site or one tent and one camper per site.
Camping is restricted to designated sites only, and is limited to two consecutive weeks per unit.
One extra vehicle per camping site is allowed. All other vehicles including visitors should park in designated lots. Visiting hours are over at 10:00 p.m.
Check out time is 3:00 p.m.
Pets must be controlled at all times and may not be tied to trees or other county property that could cause damage.
The Union County Conservation Board reserves the right to refuse or rescind any or all privileges to anyone found in violation of these rules or any laws set by the state or federal government.
DIRECTIONS TO THREE MILE LAKE: From Highway 34 go just West of Afton and turn North on the Creamery Road (also marked County Road P53). Go North about 3 miles and turn West (left) on 150th Street. Go 1/2 mile West and turn South (left) at the Three-Mile Recreation Sign.
Three-Mile Lake Lodge
---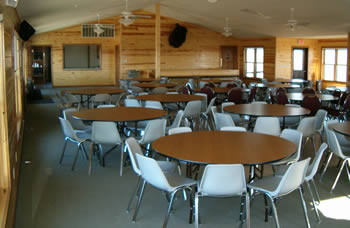 Overlooking the lake is the newest addition to the Three-Mile Lake Park, 
Three-Mile Lake Lodge, a 36′ by 84′ log structure which is available for rent by the public year-round.  This multi-purpose building has become a popular spot for many different types of activities.  The Lodge has been host to wedding ceremonies and receptions, several local school proms, reunions, anniversaries, birthdays and banquets.  Inside of the building the upstairs level boasts an impressive main room of approximately 1800 square feet, with a dance floor in the middle.  There is also a full kitchen and large restroom facilities. The lower level has the same main room, with a warming kitchen and slightly smaller restroom facilities.  For more information or to make reservations please call the Union County Conservation office at 641-347-5100.
Twelve-Mile Lake
---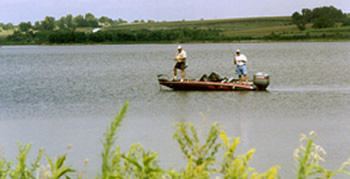 Twelve-Mile Lake has a standing reputation as one of the best fishing lakes in Iowa. Walleye, largemouth bass, crappie and channel catfish and bluegill offer great angling opportunities year-around. Shoreline access is available and there are three boat ramps. Boaters may operate at no-wake speeds only.
Twelve-Mile Lake is located four miles east of Creston, just off U.S. Highway 34.
For more information please contact Union County Conservation at 641-347-5100.
Green

Valley

State

Park
---

Green Valley State Park
had the water level lowered and the lake dredged in 2009 and is currently in the process of re-establishing itself.  
A number of fishing jetties are available, as well as two fishing piers for persons with varying ability.  There is open water for power boating and skiing, and a sand beach with buoyed swimming area and a huge modern campground that make this area a special attraction.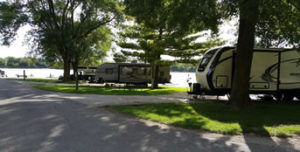 The 100 campsites were renovated in 2009 (83 with electric hookups, 18 of these are full hookups with water and sewer). You will find seasonal cabins, modern restrooms and showers and a trailer dump station. A new playground area is located in the campground. 
This 390-acre lake and 1000 acre state park is located two miles northwest of Creston just off Lincoln Street/Green Valley Road. 
Over 14 miles of hiking trails can be found in and around the Park.  In addition, you can enjoy the over five mile asphalt Park to Park trail that runs between Green Valley State Park and McKinley Park in Creston. 
Call 641-782-5131 for more information. 
Click Here to visit the Green Valley State Park web site.
Summit

Lake
---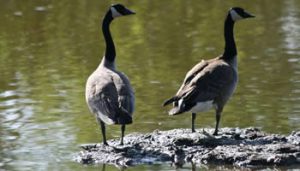 Summit Lake offers prize catches of channel catfish along with crappie, largemouth bass and bluegill. A concrete boat ramp just off the Summit Lake Bridge on State Highway 25 offers easy all-weather access for fishermen.
This lake is located about 1/4 mile west of Creston off of State Highway 25 west.
Thayer

Lake
---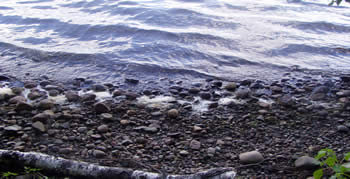 Thayer Lake
 one of the oldest man-made lakes in Iowa is a good small lake for bass, panfish and catfish. Water levels fluctuate little in dry or wet years because the lake is spring-fed. Although fishing boats are allowed, most anglers do just as well angling from the shoreline. 
Primitive camping is welcome anywhere around this 10-acre, spring-fed lake and 47 acre nature area. This small park offers a secluded, almost cathedral-like setting amid stately centenarian oak and shagbark hickory trees. Pitch your tent or bring your camper. Electrical hook-ups are available. For more information on camping, contact the Union County Conservation Office at 641-347-5100. 
Thayer Lake is located just south of Highway 34, near the town of Thayer. It is about 20 miles east of Creston.
Afton

Lake
---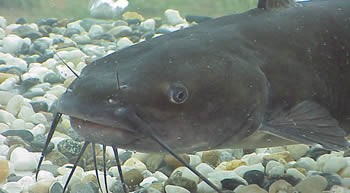 Afton Lake provides excellent bluegill, catfish and bass fishing opportunities. This lake is located just 1-1/2 miles west of Afton on old Highway 34.
Please come enjoy and experience Union County