Creston/Union County Visitor's Center
636 New York Avenue, Hwy 34 West
Creston, Iowa
Open Daily: From late May until early October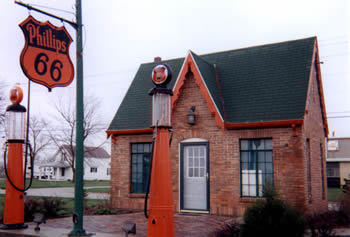 Creston/Union County Tourism & Information Center located on Highway 34 and Park Street, houses information and scrapbooks about the Phillips family and information on Creston & Union County's many attractions, upcoming events and celebrations.
Period gasoline pumps, the Phillips 66 trademark shield, and Phillips' traditional colors of green and orange have been used to retain the historic value of the building.
Frank Phillips, who founded the Phillips Petroleum Company in Bartlesville, Oklahoma, and headed it for many years, was not a native of Creston, but grew up in near-by Taylor County and began a career of barbering in Creston when he was fourteen years old.
Phillips was born in Greeley County, Nebraska on November 23, 1873.  The grasshoppers scourge in 1874 forced his family to move back to Taylor County, Iowa, where Phillips grew to manhood.
During a family excursion to town one Sunday, Frank spied one of the town's barbers, decked out in fancy striped pants called spats, taking a leisurely stroll. Frank then decided barbering was the life for him.  He found a job as an apprentice barber and settled down to learn the trade in Creston.  A few years later, bitten by the call of adventure,  Frank took his expertise west where he became a barber in the silver fields of Utah.  In 1895, Frank returned to Creston and bought a barbershop located at the corner of Pine and Montgomery Streets.  By the time Phillips was 24, he had earned enough money to buy the only other barbershop.
Not long after his return to Creston, Frank fell in love with the banker's daughter, Jane Gibson.  After a few failed attempts to stop the courtship, Jane's father offered Frank a job in the banking business and gave his consent to their marriage.
Frank Phillips and Jane Gibson were married February 18, 1897, in Creston. For a short time Frank sold bonds in New England and Chicago for John Gibson's bank, but his heart was not in the job.
In 1903, Frank heard about a new oil field that had been discovered near Bartlesville, Oklahoma, in what was then Indian Territory.  The spark of adventure was again ignited.  He withdrew his savings and headed to Oklahoma.
In 1917 he founded, with his brother, L.E., the Phillips Petroleum Corporation. As the company grew, new gasoline stations were opened across the country. In 1931 one of Iowa's first Phillips 66 gasoline stations was built and opened on the corner of South Cherry Street and Highway 34 in Creston.
In 1994 the old filling station was donated to Union County. After hours of volunteer labor, the renovated station opened in 1996 as Creston/Union County's new Visitor Information Center.
The Information Center was dedicated to Frank Phillips, a Union County farm boy and entrepreneur, whose dreams and hard work led him many miles from his beloved boyhood home, but whose heart never left Union County.
Please come enjoy and experience Union County